June 12, 2022
It's probably a good moment to share the results of my work - from today Keepmark 1.36.0 is available. In this release I decided to resign from my own window frame in favor of the native frame provided by the system. This gives the system more control over the application - the user can, for example, use window snapping to the edge of the screen. This is the most noticeable change, but not the only one.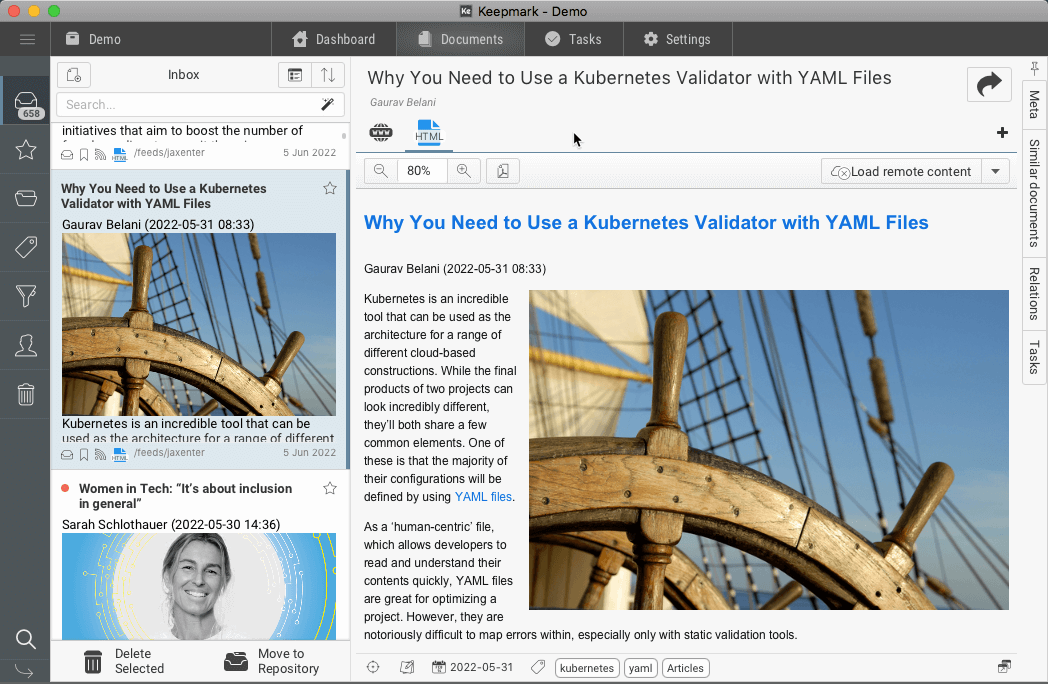 Another feature I mentioned in a previous post - the ability to add links as relationships to documents or tasks - when you add a link, a new document will be created for it in the repository.
Additionally, in the release I worked on:
introduction of suggesting tags for tasks (based on similar tasks and current content);
I've removed conversion of documents to PDF format to external tools - the functionality didn't work uniformly on different systems, so I leave it up to the user to install and configure the converter - without it the conversion option will be invisible;
in the meta-data panel of the document there are clickable links for the URLs, and folder, so you can open the location in the default system application;
faster loading of preview documents on the list - with large documents the application was very slow;
zoom for HTML files preview, and visual fixes in document preview toolbars;
fixed problems with character encoding when creating a bookmark from URL;
and some other minor fixes - like fixing deleting multimedia files on windows when they are viewed.
I encourage you to try.