February 27, 2022
It's been quiet here for a while, so I guess it's time to share what I'm currently working on. Since the previous version was released, I have been focusing on 1 new feature - "Activity Feed". Its purpose is to show the log with the latest changes and events that took place within the repository. The functionality should be very helpful if we need to track what recently happened in the repository - e.g. what files and tasks we worked on recently, or what new documents appeared recently in the repository.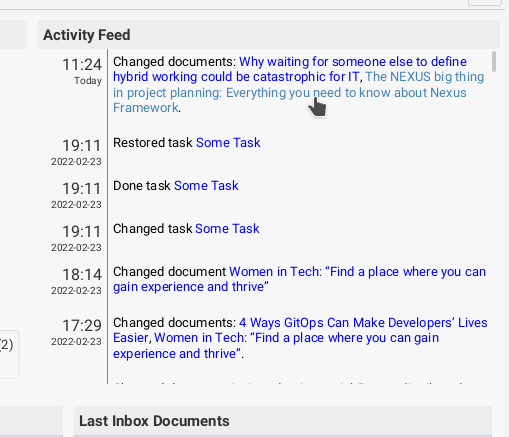 I must admit that I expected it to be easier to implement - so far it took me most of the time to work on the new release, and yet I'm still not satisfied with the result to share the functionality with you.
In order to handle this well, I had to make a lot of user-invisible changes to the documents and tasks module, because not all changes occurring in the repository are directly caused by Keepmark. I don't want to sacrifice the possibility of open and direct access to files, but at the same time I would like to inform the user about the changes.
Stay tuned.